Nail Less Plywood Box – Foldable/Collapsible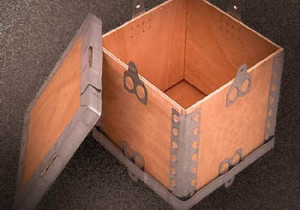 This box assembly usually consists of four parts. As the name indicates quality of both A-B type boxes blended together to form a new class of product FOLDABLE -BUCKLEtype of assembly . The parts are assembled together to made a box unit .
It comprises of a bottom , top and a set of two sides joined together with the help of Galvanized steel strip providing it the strength and flexibility to with stand the design load and simplifying the process of box assembly.
Key Features:
Clean surfaces reducing the risk of the scratches on the product.
Light in weight as compared to the cleat box. So you can deliver more quantity in the same size of the box very less volume weight.
Suitable for air cargo's by reducing the overall expenses on the product.
Strong, Robust and Hard to break.
Load is being transferred to the pallet very efficiently by distributing the load on corners uniformly making the box strong.
Reduces the cost of transportation.
PLC Machines are used for the precise cutting of the steel strips used for the consistency in the product.
Galvanized Steel is used to protect it from rusting.
The ROHS compliant steel & plywood can be used according to the customer's specification.
Eliminating the use of wood in the box assures the product compatibility with Phyto-Sanitary regulations incorporated with ISPM-15 standards.
Suitable for all form of light weight to heavy products.
Highly precision products ensure the consistency in product.
Quick Details:
 Material:

Wood

Wood Type:

Plywood

Industrial Use:

Tool

Feature:

Recyclable

Printing Handling:

Screen

Custom Order:

Accept

Place of Origin:

Gurgaon

,India

Brand Name: Punj Pack

Model Number:

Type C

Category:Collapsible / Foldable Plywood Box
Main Configuration:plywood and  galvanized steel strip
Packaging delivery:
As per clients' requiement,we will design the appropriate size to meet you need according to your request.